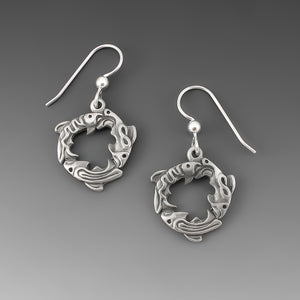 Judie Gumm Designs
SALMON SPIRIT PEWTER EARRINGS
Regular price
$26.00
$0.00
Unit price
per
Pewter Earrings measuring approximately 3/4" x 3/4" with a sterling silver ear wire
Artist's narrative: I created my 
Salmon
 Spirit series as a mandala, or prayer wheel, that symbolizes the life cycle. Look for the symbol for Genesis on the top fish's pectoral fin, then follow the maze (the mystery of its return) that ends in a pool of eggs. The Chinese symbol for homecoming rests on his tail. Continue counterclockwise to the second fish - inset into his body are ancient symbols for water and power. On the top of his tail fin, one finds the symbol for strength, while the three holes stand for the spirit of life. The third salmon completes the circle with the figure eight-like image that is the infinity symbol.
The life cycle of any species is always fascinating, but the life cycle of salmon is doubly so because we eagerly await their return. The first salmon run is revered not only because it brings with it the return of summer, but it also brings the return of one of our favorite past times - the cookout! If we are lucky, the summer and fall harvest will feed us and the dogs that many people love to race throughout the winter.
I love to design.  Wherever I walk, I am always looking for ways to capture the natural world in a piece of jewelry.  I owe my talent as an artist to my maternal grandfather, Erland Waastrom, a Swede who immigrated to this country in the early 20
th
 century. My grandfather was a visual artist. He painted versions of old masters in oils and even recreated the Mona Lisa in pastels! He was also a sculptor and worked in various mediums, including metal and wood.  One time he carved a tree root, capturing the image of an embracing couple beneath a grape arbor.  I believe that I have carried his love of art and creativity forward through my design work.
The pewter earrings have a brushed, matte grey finish that brings out the carefully carved detail in each piece. Because pewter is a softer metal, please store your pewter earrings in the plastic bag in which it was received to keep it from marring.
---
Share this Product
---