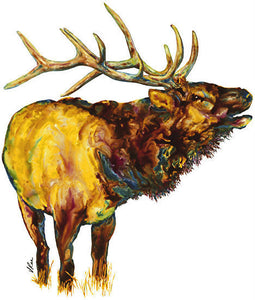 V Rae
RESONANT
Regular price
$70.00
$0.00
Unit price
per
Open edition print by V. Rae
Image size: 12" X 16"
Whether sailing Alaska coastal waters or snorkeling Hawaiian shores, V Rae chronicles natural life through bold portraits that leap from the canvas to your heart.  Defying convention in a startling fusion of color and negative space, V paints Freestyle Expressions that transport each personal encounter through time and space, sharing with the world her seamless blend of art, nature and individual personality. Like Humpback whales, V migrates between Alaska, the Pacific Northwest and Hawaii each year painting from platforms frequented by her subjects.
Artist's narrative: It was an exhausting, but exhilarating hike.  Huddled near the campfire, I sit transfixed by a luminous glow radiating behind the shrubless saddleback ridge.  I watch a golden crescent thumbnail slip slowly through the surface and drift up, forming a massive pearl backdrop above the sparkling granite stage.  Resonant moves gracefully from the shadows to center stage, tilts his head to the stars and opens the evening with a soul stirring call to love.  As the final notes echo through the crisp mountain air, he slips back into the shadows and disappears, taking with him a teardrop stained portion of my eternally grateful heart.
---
Share this Product
---