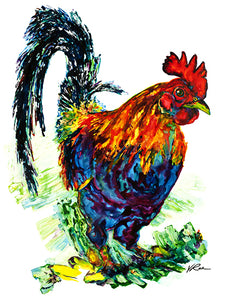 V Rae
COCKTAIL
Regular price
$70.00
$0.00
Unit price
per
Open edition print by V. Rae
Image size: 12" X 16"
Whether sailing Alaska coastal waters or snorkeling Hawaiian shores, V Rae chronicles natural life through bold portraits that leap from the canvas to your heart.  Defying convention in a startling fusion of color and negative space, V paints Freestyle Expressions that transport each personal encounter through time and space, sharing with the world her seamless blend of art, nature and individual personality. Like Humpback whales, V migrates between Alaska, the Pacific Northwest and Hawaii each year painting from platforms frequented by her subjects.
Artist's narrative: So many things in life are illusion.  In art, 'perspective' creates an illusion of depth that fools the mind into thinking a flat, two dimension image is three dimension.  Similarly, 'negative space' is the absence of medium that our mind fills in to complete an expression.   In life, Kauai roosters appear to be moa kane hunks that melt the hearts of every chick they encounter.  But don't let the comb and feathers fool you.  A girl can tell a lot about a man by the way he struts, crows and scratches.  You don't want a cocky guy who just can't stop peckin' now, do ya?
---
Share this Product
---