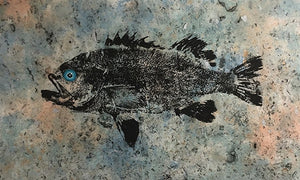 Ink Goes Wild
BLACK SEA BASS ORIGINAL GYOTAKU
Regular price
$250.00
$0.00
Unit price
per
Original gyotaku print on handmade marble metallic paper from Thailand
Image size: 30" x 18"
*This original print is unframed. For framing design options and pricing, please email us at sales@scanlongallery.com or text us at 907-617-9644.
Artist's narrative: This is a black sea bass, also commonly known as black rockfish; the body of this particular fish measures 22" in length.  Black sea bass are characterized by having a bass-shaped body, a large mouth, and spinous dorsal fin. The spines are venomous and may cause pain or infection; however, are not extremely toxic.  These fish can live to be 50 years old.  In Alaskan waters they subsist on zooplankton, crab larvae, and fish such as herring and sand lance.  They range from Alaska's Aleutian Islands to southern California.
"Gyotaku" is a traditional Japanese ink-printing method used by Japanese fishermen to document their catch.
Each Ink Goes Wild Alaska Gyotaku fish rub is an ink rubbing of an actual fish which was caught by Corinne or her husband Keith in Resurrection Bay. They call Seward, which is nestled between majestic mountain peaks on one side and Resurrection Bay on the other, on south-central Alaska's Kenai Peninsula, their home.
---
Share this Product
---