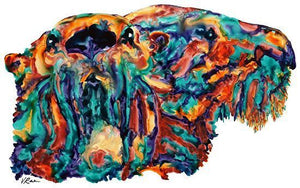 V Rae
IN OTTER WORDS, I LOVE YOU
Regular price
$70.00
$0.00
Unit price
per
Open edition print by V. Rae
Image size: 18" x 12"
Whether sailing Alaska coastal waters or snorkeling Hawaiian shores, V Rae chronicles natural life through bold portraits that leap from the canvas to your heart.  Defying convention in a startling fusion of color and negative space, V paints Freestyle Expressions that transport each personal encounter through time and space, sharing with the world her seamless blend of art, nature and individual personality. Like Humpback whales, V migrates between Alaska, the Pacific Northwest and Hawaii each year painting from platforms frequented by her subjects.
Artist's narrative: My husband and I are addicted to gunk-holing the remote fjords of Alaska's Prince William Sound.  So when our youngest daughter was contemplating marriage, we said it's like double-handed sailing.  A successful partnership isn't about who's captain, it's about complimentary skills, communication and covering each other's back.  Only then are we prepared to navigate the strong wind and steep seas that life will inevitably toss our direction.  One of the best tools for the journey is a Marlin Spike.  When skilled in its use partners can untie knots that tighten under tension, splice severed strands stronger than before and defend against hostile boarding parties.  We encouraged the young couple to carefully chart their course, cast off lines and set sail, but not to forget the Marlin Spike.
---
Share this Product
---