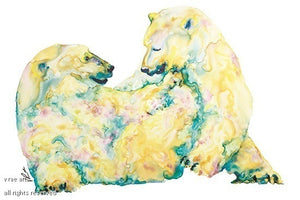 V Rae
POLAMOR
Regular price
$70.00
$0.00
Unit price
per
Open edition print by V. Rae
Image size: 16" x 12"
Whether sailing Alaska coastal waters or snorkeling Hawaiian shores, V Rae chronicles natural life through bold portraits that leap from the canvas to your heart. Defying convention in a startling fusion of color and negative space, V paints Freestyle Expressions that transport each personal encounter through time and space, sharing with the world her seamless blend of art, nature and individual personality. Like Humpback whales, V migrates between Alaska, the Pacific Northwest and Hawaii each year painting from platforms frequented by her subjects.
Artist's narrative: 
(sung to Billy Joel's  I Love You Just The Way You Are)
 don't go buyin' no new fur coat, just love the color of your hair
 like a love note stuck in mah throat, I mean babe I really care
 don't want ice cold idle chit chat, don't wanna stay and hear ya growl
just want someone that I can bare hug, ya think ya might be ready now?
 fuzzy leggin's, swingin' tail fur, hop on mah ice and drift with me
under star light  livin' the good life, sooo sure with me you outta be
 ice caps meltin' but that don't matter, same thing happened to my heart
when I first saw ya swimmin' to me, I knew our hearts would never part
---
Share this Product
---