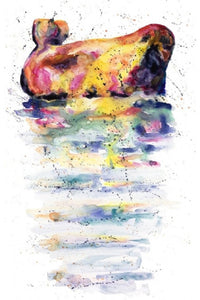 V Rae
SEALED CONFESSION
Regular price
$70.00
$0.00
Unit price
per
Open edition print by V. Rae
Image size: 12" x 18"
Whether sailing Alaska coastal waters or snorkeling Hawaiian shores, V Rae chronicles natural life through bold portraits that leap from the canvas to your heart.  Defying convention in a startling fusion of color and negative space, V paints Freestyle Expressions that transport each personal encounter through time and space, sharing with the world her seamless blend of art, nature and individual personality. Like Humpback whales, V migrates between Alaska, the Pacific Northwest and Hawaii each year painting from platforms frequented by her subjects.
Artist's narrative: Never met a color I didn't like. Before I emerged as more than a gleam in V Rae's eye, I'd lapse into kaleidoscope moments imagining my presentation. Artists are a touchy lot, and I hesitated to impose, but really felt entitled to some influence over my own creation. So I waited until she dipped her brush, then whispered in her ear, 'V, watercolor's a lot like the Tango. Here, take my flipper.' We embraced and moved to the rhythm in sensuous struggle for control, then blended in a passionate undercurrent of body, mind and spirit. As my image emerged, we both smiled in relief because watercolor is also a lot like life: get it right the first time, there's no second chance. Hmm, if I do say, I turned out the mirror image of me.
---
Share this Product
---