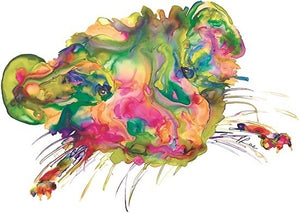 V Rae
SHREW YOU
Regular price
$70.00
$0.00
Unit price
per
Open edition print by V. Rae
Image size: 16" x 12"
Whether sailing Alaska coastal waters or snorkeling Hawaiian shores, V Rae chronicles natural life through bold portraits that leap from the canvas to your heart.  Defying convention in a startling fusion of color and negative space, V paints Freestyle Expressions that transport each personal encounter through time and space, sharing with the world her seamless blend of art, nature and individual personality. Like Humpback whales, V migrates between Alaska, the Pacific Northwest and Hawaii each year painting from platforms frequented by her subjects.
Artist's narrative: I have neighbors who keep their dogs in an outdoor kennel and bark incessantly (the dogs not the neighbors).  It drives me nuts when I'm concentrating on a painting, or trying to fall back asleep.  My husband, who's, shall we say, hearing challenged, suggested I follow Jesus' counsel and turn the other ear.  I thanked him for rising above the howl and said I was contemplating the earlier admonition of bark for bark and bite for bite.  But I settled down when he offered to kiss the other cheek. 
---
Share this Product
---