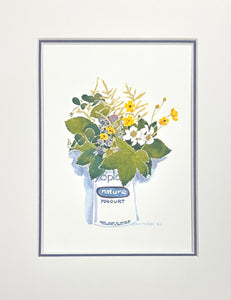 Rie Munoz
Signs Of Spring Matted Art Card
Regular price
$24.00
$0.00
Unit price
per
8" x 10" Double mat; 5" x 7" art card.
One of Alaska's most celebrated artists, Rie Munoz was born in Van Nuys, California in 1921. While living in California in 1950, she decided to plan a trip. She looked at a map, drew a line to the farthest point and most interesting place she could afford on her shoestring budget. Rie choose Alaska, traveling up the inside passage by steamship. She immediately fell in love with Juneau and gave herself one day-until the ship was scheduled to depart- to find a job and a place to live. Rie found both and Alaska became her home.
Rie's work and world of art is one of animated movement. You'll find ducks bobbing on water, boats tied up at docks or on Alaskan rivers, fishermen tending to their nets, children at play, villagers picking berries, village life, and dogs. Rie once said she never met a dog she didn't like. Her work is suggestive of actual life and her colors are bright, bringing the viewer much delight.
Rie Munoz passed on April 6, 2015. She will be dearly missed by all who loved her and her art.
---
Share this Product
---