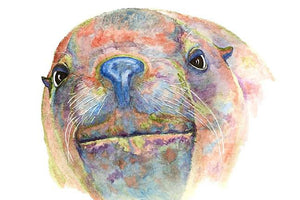 V Rae
SIMPLY STELLAR
Regular price
$70.00
$0.00
Unit price
per
Open edition print by V. Rae
Image size: 18" x 12"
Whether sailing Alaska coastal waters or snorkeling Hawaiian shores, V Rae chronicles natural life through bold portraits that leap from the canvas to your heart.  Defying convention in a startling fusion of color and negative space, V paints Freestyle Expressions that transport each personal encounter through time and space, sharing with the world her seamless blend of art, nature and individual personality. Like Humpback whales, V migrates between Alaska, the Pacific Northwest and Hawaii each year painting from platforms frequented by her subjects.
Artist's narrative: I sat alone on the bowsprit, rocking to a gentle tidal surge, waiting for him to show. We met online and I really hoped he'd fill a special place in my heart. As I gazed into the depths, a shadowy figure eclipsed the sparkling surface, shot my direction and swept past with a quick glance and aloof flick of a flipper. I thought, 'Gosh, my Facebook pic isn't that much younger!' Disappointed, I watched his bubbly wake disappear under a screeching gaggle of Kittiwakes. Then, looking down, my heart leapt as his charming face slipped through the surface with a smile and a wink. We drifted face-to-face for a time, then he arched his sleek back and was gone - off to capture another heart, no doubt. The big boys in the Eared Seal family aren't much on commitment, but I hear they pile on a great sleepover - so, careful girls.
---
Share this Product
---