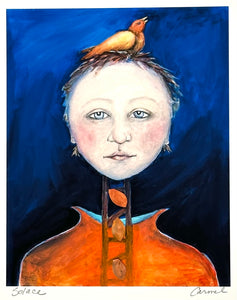 Carmel Anderson
SOLACE 10X12.5
Regular price
$54.00
$0.00
Unit price
per
Ketchikan artist Carmel Anderson was raised in Duluth, Minnesota. She received her bachelor's degree from the Art Institute of Chicago, with a focus in Fashion Design and completed an apprenticeship with designer Perry Ellis. After many successful and award winning years as a fashion designer in New York City she returned to her passion of watercolor painting.
The essence of her paintings is the wisdom found in the deep, rich, and often complex souls of women. Observing women as they love, share, learn, and forgive, while living contentedly and fearlessly, is the power behind my work.
She says, "In my art I try to venture beyond the conventional senses to explore the inner soul of otherwise seemingly ordinary objects, places and things." She works heavily with visual symbols and metaphor. In her paintings, for example, the absence of a human neck represents a disconnect between the mind and soul. Cages illustrate the desire to capture wisdom. Ladders imply movement between the mind and heart. Springs represent the resilience of the spirit. Women wearing bird beaks show their desire to become like birds and hope for the freedom that comes with wings.
---
Share this Product
---