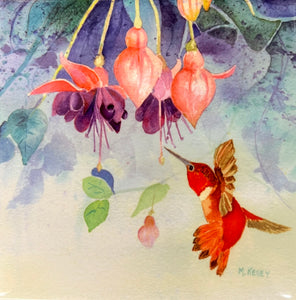 LOCAL ART
AHHH SUMMER TILE
Regular price
$18.00
$0.00
Unit price
per
4" x 4" Ceramic tile, with cork backing.
These artistic tiles make beautiful coasters and wonderful gifts. Each tile was taken from an original watercolor by local Ketchikan artist, Maida Kelley. Designed in Ketchikan, Alaska and manufactured in the USA. Each tile depicts a scene in Alaska.
Artist Statement:
I began painting like a lot of people do: I took a class at a local art and hobby store for less than $10–and I was hooked. I have been painting nearly 365 days a year ever since, and it's more fun than it's ever been.
I love my home state of Alaska–I have lived in Ketchikan on and off since I was two-years-old and I wouldn't live anywhere else in the world. If you are ever in town, you can come meet me in person! If you are on a local Alaskan cruise, you will find my booth just off the dock–the little booth with the sign that says "Watercolors" You'll know you're there because you'll be chatting with the most charming woman you have ever met!
(Besides charming, Maida is one of the funniest people we know!)
---
Share this Product
---